Our Business Processes
Research2Systems believes that the business processes at any organization should be targeted around the relevance that they will have for the clients. We understand that client retention calls for an assurance to provide the clients what is best for them - not what is best for us.

In our endeavor to provide such services that meet our precious clients' needs and expectations, we strive to make our business processes the best in class! All business processes at Research2Systems focus to coalesce industry knowledge with analytics & research expertise, guided by the eventual aim of delivering potent judgments.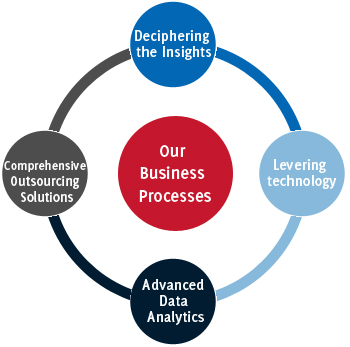 Deciphering the Insights
We begin with unraveling the insights. For this we conduct strenuous brain storming sessions together with panel studies and research conferences, with the assistance of our marvelous team of experts. This helps us in better appraising & gauging the requirements of our clients.
Levering technology
By exploiting the most modern & state of the art technologies, we operate in a highly trained and competent manner which helps us in delivering proven expertise to our clients for their business progressions.
Advanced Data Analytics
By nurturing & training the best minds of the industry, our business processes are designed to offer advanced data analytics and quantitative expertise to the global clients. We employ the most radical research methodologies and statistical tools that deliver nothing but the best possible solutions for your business concerns.
Comprehensive Outsourcing Solutions
At Research2Systems, we work towards supplying all our globe-spanning clients with corresponding exactitude and meticulousness. Here, you get superlative customized services- pertinent and apt for your industry, coupled with the best intellectual resources of the world.